Turkey says it will launch Syria offensive if US delays pullout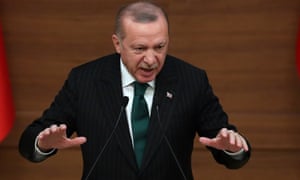 Foreign minister warns US not to put off exit with 'excuses' about Turks massacring Kurds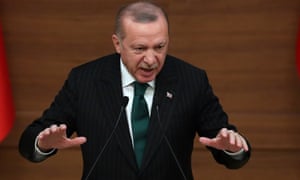 Turkey will launch an offensive against Syrian Kurdish forces if the US delays the withdrawal of its troops from Syria, the foreign minister has said.
"If the [pullout] is put off with ridiculous excuses like Turks are massacring Kurds, which do not reflect the reality, we will implement this decision," Mevlüt Çavuşoğlu told NTV television.
Turkey and the US are at loggerheads over the future of Syrian Kurdish forces after the US president, Donald Trump, made a surprise announcement last month to withdraw 2,000 troops from Syria.
Ahead of Trump's move, the Turkish president, Recep Tayyip Erdoğan, threatened to launch another operation in Syria targeting the US-backed Syrian Kurdish militia, which Turkey regards as a terrorist group.
Turkish officials had a tense meeting this week with Trump's national security adviser, John Bolton, in Ankara aimed at coordinating the pullout process.
Erdoğan – who has welcomed the pullout plan – accused Bolton of a "grave mistake" in demanding that Ankara provide assurances on the safety of the Kurdish fighters before Washington withdraws its troops.
The US secretary of state, Mike Pompeo, who is on a regional tour, also said on Wednesday that Turkey had committed to protecting Washington's Kurdish allies fighting Islamic State in Syria.
American forces have worked closely with the Syrian Kurdish People's Protection Units (YPG) militia, seen by Ankara as a "terrorist offshoot" of the outlawed Kurdistan Workers' party (PKK), which has waged an insurgency against the Turkish state since 1984.
Çavuşoğlu said Turkey would go ahead with its incursion plan.
"We are determined on the field and at the table," he said. "We will decide on its timing and we will not receive permission from anyone."
He also said some officials in the US administration had sought to deter Trump from the pullout plan and create "excuses" such as about Turkey massacring Kurds, in reference to Pompeo's comments.
Çavuşoğlu said Ankara would fight the YPG whether or not the US withdrew from Syria. He said he was planning to have a phone call with Pompeo on Thursday.
Speaking in Cairo, Pompeo attacked a speech Barack Obama gave in the Egyptian capital in 2009 in which he spoke of "a new beginning" for USrelations with countries in the Arab and Muslim world.
"Remember, it was here, here in this very city, another American stood before you," Pompeo told an invited audience of Egyptian officials, foreign diplomats and students. "He told you that radical Islamist terrorism does not stem from ideology. He told you 9/11 led my country to abandon its ideals, particularly in the Middle East. He told you that the United States and the Muslim world needed a new beginning. The results of these misjudgments have been dire.
"In falsely seeing ourselves as a force for what ails the Middle East, we were timid about asserting ourselves when the times and our partners demanded it," Pompeo said, without mentioning the former president by name.
Pompeo blamed the previous administration's approach to the Middle East for the ills that consumed it now, particularly the rise of Islamic State in Iraq and Syria, and Iran's increasing assertiveness, which he said was a direct result of sanctions relief, since rescinded by the Trump administration, granted to it under the 2015 nuclear deal.
However, Pompeo said that since Trump's election this was all changing.
"The good news is this: the age of self-inflicted American shame is over, and so are the policies that produced so much needless suffering," he said. "Now comes the real new beginning.
"The nations of the Middle East will never enjoy security, achieve economic stability, or advance the dreams of its peoples if Iran's revolutionary regime persists on its current course."
A group of mainly former Obama administration foreign policy officials rejected Pompeo's assertions as petty and weak.
"That this administration feels the need, nearly a decade later, to take potshots at an effort to identify common ground between the Arab world and the west speaks not only to the Trump administration's pettiness but also to its lack of a strategic vision for America's role in the region and its abdication of America's values," the National Security Action group said in a statement.
Powered by WPeMatico