Trump names Haley, DeVos to cabinet; Carson says he's 'thinking about' offer 'on the table'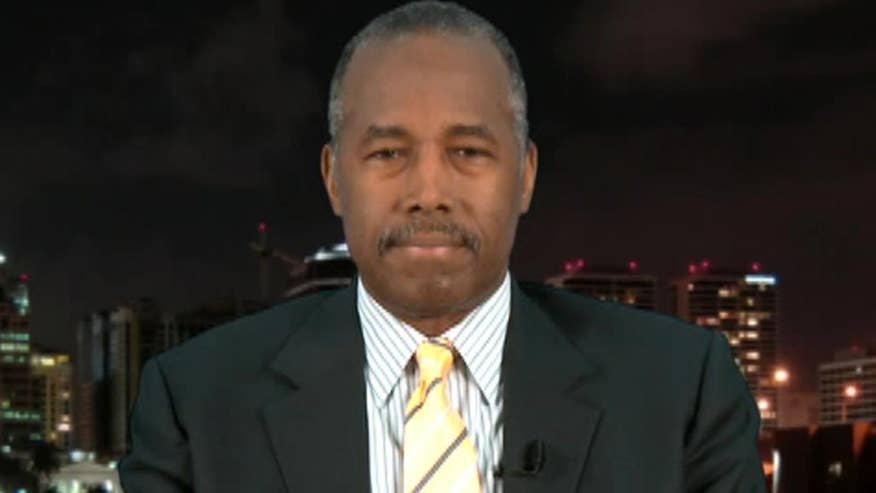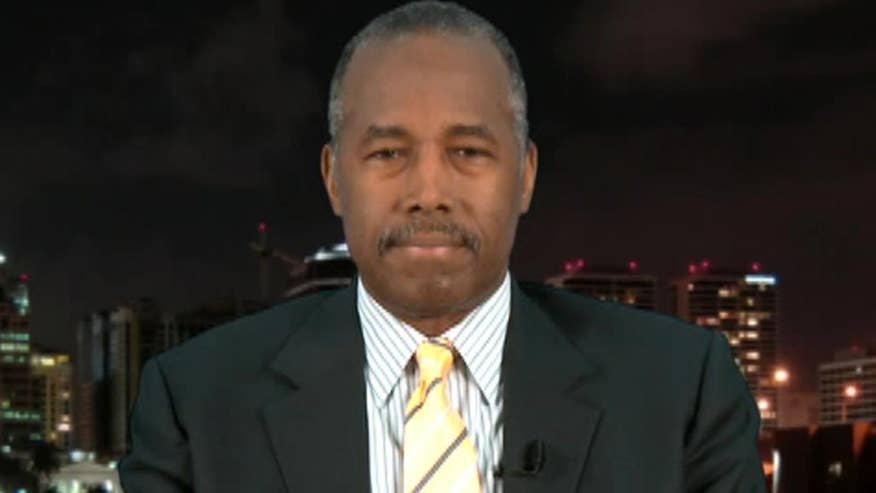 Just in time for Thanksgiving, President-elect Donald Trump continued stocking his cabinet on Wednesday, naming two new nominees as his one-time rival Dr. Ben Carson said he is still "thinking about" options to serve in the new administration. 
In an exclusive interview on "The Kelly File," Carson, who is rumored to head the department of Housing and Urban Development, said "the offer was on the table," but that news should come out "in the next few days." 
"There are a lot of things that were put on the table, and I am thinking about them," Carson said, referring to if he plans to serve in a role in or outside the government. 
Earlier on Wednesday, Trump announced the choices of South Carolina Gov. Nikki Haley to be U.S. ambassador to the United Nations and charter school advocate Betsy DeVos to lead the Department of Education. All three cabinet positions require Senate confirmation before they become official.
The retired pediatric neurosurgeon, who had previously been rumored to be a contender for a job heading Veteran's Affairs, Education or Health and Human Services, could appear at first glance as an odd choice for HUD. However, Carson wrote and spoke about the department and issues affected by its actions numerous times during his time as a primary candidate, and he also addressed some of what may soon face him in a Wednesday Facebook post that hinted at a HUD job offer from Trump.
[embedded content]
"After serious discussions with the Trump transition team, I feel that I can make a significant contribution particularly to making our inner cities great for everyone," Carson wrote. "We have much work to do in strengthening every aspect of our nation and ensuring that both our physical infrastructure and our spiritual infrastructure is solid. An announcement is forthcoming about my role in helping to make America great again."
Predictions Map
See the Fox News 2016 battleground prediction map and make your own election projections. See Predictions Map →
On Tuesday, Carson told Fox News Channel's "Your World with Neil Cavuto" that the HUD position was "one of the offers [from Trump] that is on the table."
Related stories…
Trump picks charter school advocate Betsy DeVos for education secretary
"Our inner cities are in terrible shape," Carson said. "And they definitely need some real attention. There have been so many promises made over the last several decades and nothing has been done, so it certainly is something that has been a long-term interest of mine."
Minutes after Carson left a meeting with Trump at Trump Tower Tuesday, the billionaire mogul tweeted: "I am seriously considering Dr. Ben Carson as the head of HUD. I've gotten to know him well—he's a greatly talented person who loves people!"
Carson ran against Trump during the Republican primary battle. But after he dropped out of the White House race in March, the subdued doctor quickly endorsed the boisterous businessman and became one of Trump's most visible surrogates.
The path to a secretary nomination was far different for Haley, who often critiqued Trump during the campaign, though she eventually – and somewhat begrudgingly – said she would vote for him for president.
"This is no longer a choice for me on personalities because I'm not a fan of either one," Haley said in October. "What it is about is policy."
Born in South Carolina and of Indian descent, Haley is the third Asian-American to serve as U.S. governor. She drew praise for her handling of the aftermath of a racially-charged mass shooting at a black Charleston church and also presided over the removal of the Confederate flag from the South Carolina state house grounds.
Haley was beginning to earn buzz as a possible vice presidential pick in January when she delivered the Republican response to President Obama's final State of the Union address. Parts of her speech, however, were viewed as a rebuke not only of Obama, but also of Trump.
But her past criticism – and support of Sens. Marco Rubio and Ted Cruz – were apparently set to the side during a Thursday meeting with Trump. A Trump spokesperson said Wednesday that Trump and Haley had "natural chemistry" and her selection as UN ambassador was an easy choice.
DeVos, from Michigan, is a longtime advocate for charter schools and school vouchers. She currently leads the advocacy group, American Federation for Children, and sits on the board of the Jeb Bush-led Foundation for Excellence in Education. Bush, another fierce critic of Trump prior to the election, praised the decision to choose DeVos.
"The status quo in education is not acceptable," DeVos said in a Wednesday statement.
The DeVos family has been active in Republican politics for decades, especially as donors to GOP candidates and the Republican Party. DeVos' husband, Dick, is an heir to the Amway fortune and a former president of the company. The couple gave $22.5 million to the Kennedy Center for the Performing Arts in Washington in 2010, at the time the largest private donation in the center's history.
Hours before the DeVos pick was announced, conservative policy leader Frank Cannon, president of American Principles Project, called her "an establishment, pro-Common Core secretary of education."
Asked about DeVos' support for the Common Core standards, Trump spokesman Jason Miller noted that "the president-elect has been consistent and very clear in his opposition to Common Core."
"Anybody joining the administration is signing on to the president-elect's platform and vision for moving America forward," Miller said.
Powered by WPeMatico