the scramble to survive amid hail of gunshots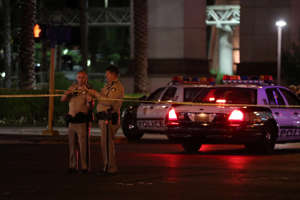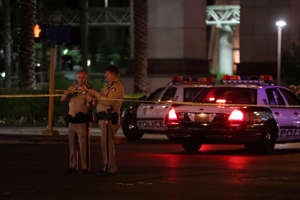 Las Vegas shooting LAS VEGAS — The gunfire seemed to come from every direction.
At first, no one moved; no one panicked. It sounded like fireworks, a jackhammer even — too fast, too many for gunshots, according to those who witnessed the deadliest mass shooting in modern U.S. history.
On Monday morning, survivors — many from the Bay Area and elsewhere in California — recounted the minutes of desperation, the hours of fear and chaos, as they fled a horrific and unbelievable scene.
There were 22,000 people crowded shoulder to shoulder, they said, dancing, laughing, singing on the last night of a three-day music festival. They were sitting ducks.
It was about 10 p.m. Sunday and country singer Jason Aldean was on the stage. In the crowd, Alicja Wolny, wearing a flannel shirt and her favorite cowboy boots, crowded together with friends for a photo as she flashed a lipstick-red smile, the Mandalay Bay Resort and Casino lit up in the background to her right.
The camera clicked and then moments later, there was a "pop-pop," followed by a long pause.
"Were those gunshots?" Wolny, of El Dorado Hills east of Sacramento, said to a friend. No, fireworks, the friend replied.
Then, more: pop-pop-pop-pop, like a machine gun in a war movie, the staccato endless as Aldean ran off stage and the lights flicked off.
The smell of spilled beer and smoke choked the air as the music was replaced by screams and the sound of people yelling "Get down!" Thousands ran for their lives. Wolny pressed into the chaos, taking cover behind a desk in a vendor booth with 30 others.
"Then we heard more rounds and saw people slumped on the ground and people getting hit," she said. "We needed to run. We were jumping over bodies."
Wolny took cover in the loading docks of the Tropicana Hotel until someone incorrectly yelled that there was a shooter in the lobby. She ran to a nearby apartment complex, her boots covered in someone else's blood, and waited.
Reunited with friends, they turned on the news, which initially reported two confirmed dead.
"I knew that those numbers were going to rise," she said. "I had just seen probably 110 people shot. It was terror. It was absolute horrifying terror. The whole time you are thinking you are going to die."
The gunman, identified as 64-year-old Stephen Craig Paddock of Mesquite, Nev., had fired on the crowd at the outdoor Route 91 Harvest Festival from the 32nd floor of nearby Mandalay Bay Resort and Casino.
The concertgoers ran for cover, leaving cell phones, purses, shoes and plastic cups on the ground. In the panic, some even dashed to the Mandalay Bay hotel — like Rachel Dekerf and her husband, who'd hopped a fence and headed for the nearest building.
A security guard told them to get out immediately, recalled Dekerf, who had come from Canada for the concert. "They've got the shooter in here," she said the guard told her.
Ryan Borland was about 50 yards from the main stage with 10 friends, including several police officers, when the first shots were fired. At first, none of them recognized the sound. The noises were too fast and too many to be immediately identified as gunshots.
"When it kept going, we realized what was going on, and we hit the ground," said Borland, 37, of Valencia in Los Angeles County.
A stranger behind him was hit in the head. Another to his left was hit in the chest.
"There were bodies everywhere. There was people on the ground. There was blood," he said. "The first thing that went through my mind was, 'Where is my wife? We need to get moving. I need to get home to my kids.'"
Borland found his wife and escaped, as Wolny had, and Borland's friends were uninjured.
A wounded woman is moved outside the Tropicana during an active shooter situation on the Las Vegas Strip in Las Vegas Sunday, Oct. 1, 2017. Multiple victims were being transported to hospitals after a shooting late Sunday at a music festival on the Las Vegas Strip. (Chase Stevens/Las Vegas Review-Journal via AP)
© Chase Stevens, AP
Scores of others fared worse. People described chaos, confusion, and inaccurate rumors of multiple gunmen and bombs.
"Everyone was looking around trying to figure out what was happening," said Tiffany Farris, an elementary school principal from Riverside, who was at the concert with her mother and friends.
Farris and her mother — who lost her flip-flops in the mayhem and went barefoot — ran to a nearby concession building to hide. She said she saw one woman receiving cardiopulmonary resuscitation, and another woman bleeding and screaming that she had been shot.
Amid the chaos, there were heroes.
Nadine Reyes, a Santa Rosa Realtor, said a stranger threw himself on her and her daughter, 28, protecting them until there was a break in the gunfire, and then he told them to get out.
"He laid literally on top of my daughter and I," Reyes said. "I don't know what ever happened to him. I wish I did."
They ran, the sound of gunfire seeming to come from every direction. When the escape route was blocked by a perimeter fence at McCarran International Airport next to the concert venue, a stranger with a four-wheel-drive truck came out of nowhere and pulled the fence down so the terrified crowd could run onto the tarmac.
Injured people were scattered on the runway, and Reyes and her daughter hid behind an air-conditioning unit until police came to evacuate them.
By Monday morning, a memorial for the victims started to grow, with notes, flowers and tears strewn on the sidewalk at the police perimeter.
And after a long night at the MGM Grand waiting for the all clear, Borland returned to his hotel room at the Mandalay Bay. He and his wife were anxious to get home, but his car was still under police lockdown.
He wanted to get on the road, hoping home would reset the endless loop playing in his head. The guy behind him shot in the head. The guy to his left shot in the chest.
"I think I'm still living on adrenaline at this point," he said. "The mind-set of somebody who could do this is beyond my comprehension."
Staff writers Evan Sernoffsky, Annie Ma and Trisha Thadani contributed
to this story.
Jill Tucker and Lizzie Johnson are San Francisco Chronicle staff writers. Email: jtucker@sfchronicle.com, ljohnson@sfchronicle.com Twitter: @jilltucker, @LizzieJohnsonnn
Powered by WPeMatico