Brexit Bulletin: Brexit Back in the Dock
The small matter of Brexit rises to the highest court in the land.
by
Sign up to receive the Brexit Bulletin in your inbox, and follow @Brexit on Twitter.
Brexit goes back into the dock on Monday as the Supreme Court starts considering whether Prime Minister Theresa May or Parliament has the power to trigger the two-year countdown to withdrawal from the European Union.
High Court judges were accused by parts the British media of being "Enemies of the People" for their ruling last month in favor of Parliament, and court officials are now expecting unprecedented numbers of spectators. Two neighbouring courtrooms will be open, with video links to deal with demand.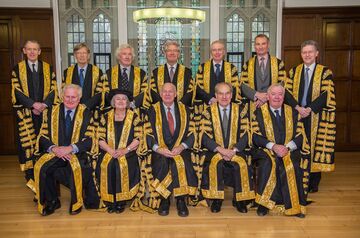 Source: Supreme Court
The hearing, which will be livestreamed, is expected to take up most of this week, with a ruling unlikely before January. Victory for May would allow her to trigger negotiations by the end of March and keep her position private as long as possible. Defeat would mean lawmakers could potentially try to derail the process; it's more likely they would seek to force May to reveal more about her plan and to try to shape it. 
If the Supreme Court does rule against the government, May will file legislation just 16 words long. The government thinks that will reduce the chances of it being amended and help keep the March deadline on track, the Sunday Telegraph said.
Labour Party leader Jeremy Corbyn said on Saturday he would seek to amend any bill to ensure continued links to EU markets and workers rights.
For more, Kit Chellel and Patrick Gower profile all the 11 justices and Jeremy Hodges has details on who's bringing the case and everything else you need to know.
Italy Votes for Renxit
Italian Prime Minister Matteo Renzi quit after losing a referendum on constitutional changes, becoming the second European premier (after David Cameron, of course) to be forced out this year by a wave of populism.
Opponents of Renzi's proposal to rein in the power of the Senate won the ballot by 60 percent to 40 percent.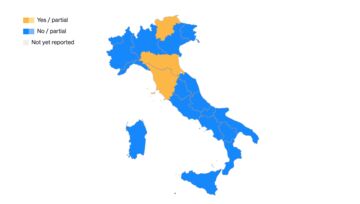 What does it mean for Brexit? Well, Theresa May could take advantage of Europe's political problems, using the opportunity to press harder for what she wants. Or EU leaders could take a tougher stance with the U.K. ahead of elections in France, Germany and the Netherlands, to show that uprisings won't be rewarded.
Elsewhere, Austria fought back against the anti-establishment push by rejecting a far-right presidential candidate. Norbert Hofer ran on an anti-immigration ticket and advocated a diminished EU. 
Shades of Grey
We got used to defining Brexit as "hard" or "soft," as if the process is just like boiling an egg. Now the process seems to be taking on the shade of classic British weather.
Newspaper reports over the weekend featured mutterings of "Grey Brexit," referring to the type of deal apparently being devised by the government. It would involve the U.K. leaving the single market before seeking Canada-style access to some parts of it, while also clamping down on immigration but allowing entry to the U.K. for skilled migrants in certain sectors.
Foreign Secretary Boris Johnson declined to get into the "minutiae" of Brexit planning in three TV interviews on Sunday. He still indicated divisions at the heart of government by declining to endorse suggestions of Brexit Secretary David Davis and Chancellor of the Exchequer Philip Hammond that the U.K. consider paying the EU in return for continued access to some of its markets.
Hammond and Davis will gather with business executives on Monday, while May heads to Bahrain this week to meet Gulf leaders she hopes will help deliver trade and investment after Brexit.
After her ruling Conservative Party last week lost a parliamentary seat to the pro-Brexit Liberal Democrats, May faces a second electoral test this week. This time it will be those who backed Brexit who will be giving their verdict, in the constituency of Sleaford. 
The Observer nevertheless reported some members of May's own party are worried she could lose the next general election, currently timed for 2020, if her Brexit push ends up alienating moderate supporters.
Brexit Bullets
BNP Paribas chairman Lemierre says London's financial district will undergo "significant" change after Brexit
EEF says manufacturing strengthens, cost pressures intensify
Cracking Christmas won't prevent 2017 being retail turkey: Gadfly
Private sector growth remained steady in three months to November, says CBI
Japan vice finance minister hopes for "smooth" Brexit transition
Johnson tells ITV that students shouldn't be included in immigration data
Irish leader Kenny tells Bloomberg that Britain can forget about cherrypicking
May threatens to fire ministers or advisers who leak Brexit plans, says Mail on Sunday
Budget watchdog member says Brexit may mean cheaper food, Telegraph reports
IMF's Lagarde says "we are still looking at a hard Brexit"
200 pro-Brexit business leaders say May should "get on with'' it, says Sunday Times
BT Group Chairman Mike Rake says it's "critical" Brexit deal allows market access, migration
Ambassadors tell Sunday Telegraph that Johnson didn't back free movement of labor in meeting
And Finally…
Boris Johnson on Sunday called Britain the "knowledge capital" of the world, claiming one in seven of all the kings, queens, presidents and prime ministers in the world today were educated in Britain.
The university lecturers teaching them, though, may be feeling stressed by Brexit. The Sunday Times reported that academics at some British universities have been offered wellbeing classes to help them address any anxiety stemming from the vote.
The guide warns against "news addiction," according to the newspaper, adding the warning:  "If you receive a lot of news shocks, your body is likely to experience fear."
For more on Brexit follow Bloomberg on Twitter, Facebook and Instagram, and see our full coverage at Bloomberg.com
Powered by WPeMatico