Trump rips Democrats as 'obstructionists' as he vows to 'fight' to pass tax bill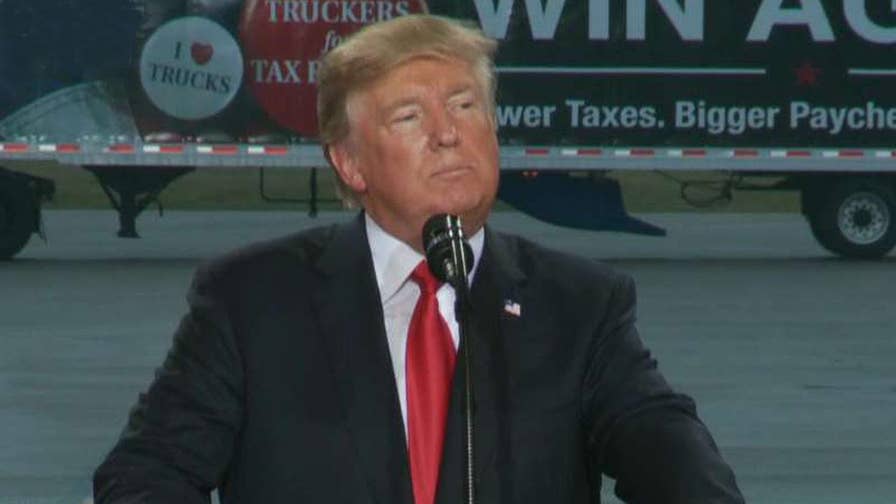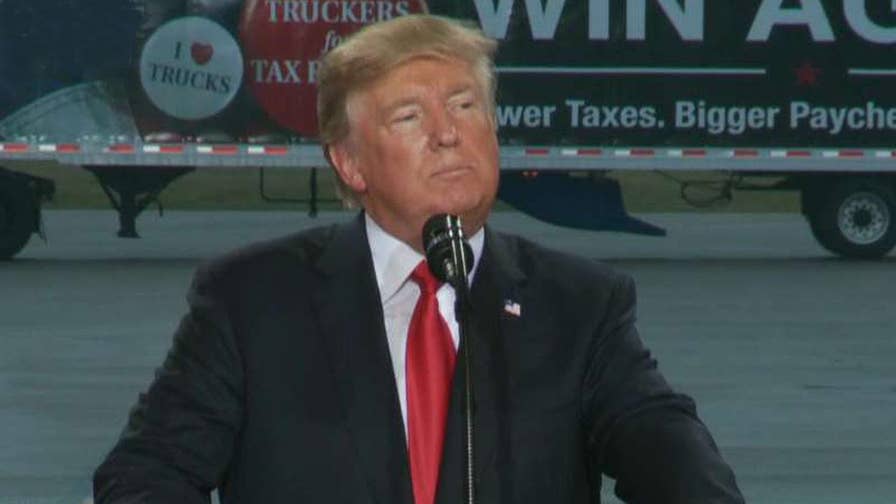 President Trump renewed his push for tax reform on Wednesday by arguing it would benefit workers like truckers in America, while ripping Democrats in Congress as "obstructionists" who want to raise taxes.
"Sadly, the Democrats have become obstructionists," the president said during a speech in Middletown, Pennsylvania.
Added Trump, "They don't want to do anything productive. They want to raise your taxes very, very substantially. I mean, I won't even talk about open borders and higher taxes. That's not a good combination to get elected. Believe me."
He issued a warning to lawmakers who might oppose his tax reform package.
TRUMP: TAX CUTS WILL BE 'ROCKET FUEL' FOR ECONOMY
"I wouldn't want to be a politician against that," he said. "They are going to have a long, hard winter."
Addressing truckers, Trump spoke in front of an 18-wheeler plastered with text that read "WIN AGAIN" and "Lower taxes. Bigger paychecks. More jobs."
Despite his criticism of Democrats, the president expressed optimism a tax reform bill could get passed.
"We are going to fight and we are going to get those Republicans and maybe a few of those Democrats to raise their hand, and you're going to have so much money to spend in this wonderful country," he said. "And this great economy. That's why we have proposed tax cuts that are pro-growth, pro-jobs, pro-worker, pro-family and pro-America."
Democrats, like Pennsylvania Sen. Bob Casey, slammed Trump's proposal ahead of the speech on Wednesday.
"Instead of focusing on policies that raise wages and create good-paying jobs for families, President Trump is coming to Pennsylvania to promote a tax plan that raises taxes on the middle class and cuts $1.5 trillion from Medicare and Medicaid to fund tax giveaways for the wealthiest," Casey said.
"They don't want to do anything productive. They want to raise your taxes very, very substantially"

– President Trump, Middletown, Pennsylvania
The president has been traveling the country to promote a plan that would dramatically cut corporate tax rates from 35 percent to 20 percent, reduce the number of personal income tax brackets and boost the standard deduction.
"We will cut taxes for everyday, hardworking Americans," Trump said Wednesday.
Speaking to the truckers, the president said, "Nothing gets done in America without the hardworking men and women of the trucking industry… When your trucks are moving, America is growing. Do you agree?"
He also talked up his infrastructure proposals that have yet to pass in Congress.
"My administration is also committed to passing a historic infrastructure package that will generate $1 trillion to rebuild America's crumbling infrastructure with a special focus on roadways and highways," he said. "It is time to take care of our country, to rebuild our communities, and to protect our great American workers. It's about time."
Trump is diving back into the tax fight after weeks in which his attention has shifted to rapidly emerging crises — including the mass shooting in Las Vegas and the hurricane recovery effort in Puerto Rico — as well as dramas of his own making, such as his escalating feud with Sen. Bob Corker, R-Tenn., and public tension with Secretary of State Rex Tillerson.
Taxes are seen as the chief priority for Republicans hungry for a major legislative achievement. With the 2018 campaign year looming, GOP lawmakers want something to show for their time as the majority party, and tax legislation remains their best hope.
Trump has left it up to Congress to fill in many specifics of his plan, which omits details such as the income levels for his new tax brackets.
Republicans in Congress aren't solidly behind him, with some from high-tax states balking because the framework calls for eliminating the federal deduction for state and local taxes. That deduction is claimed by an estimated 44 million people and costs the government an estimated $1.3 trillion in lost revenue over 10 years.
Fractious Republican lawmakers, especially those from New York, New Jersey and California, are wary of the potential financial hit to their constituents. They contend repealing the deduction would subject people to being taxed twice.
Fox News' Kristin Brown and The Associated Press contributed to this report.
Powered by WPeMatico